MMT LIVE at MVCAC: The Case of the Missing Cupid!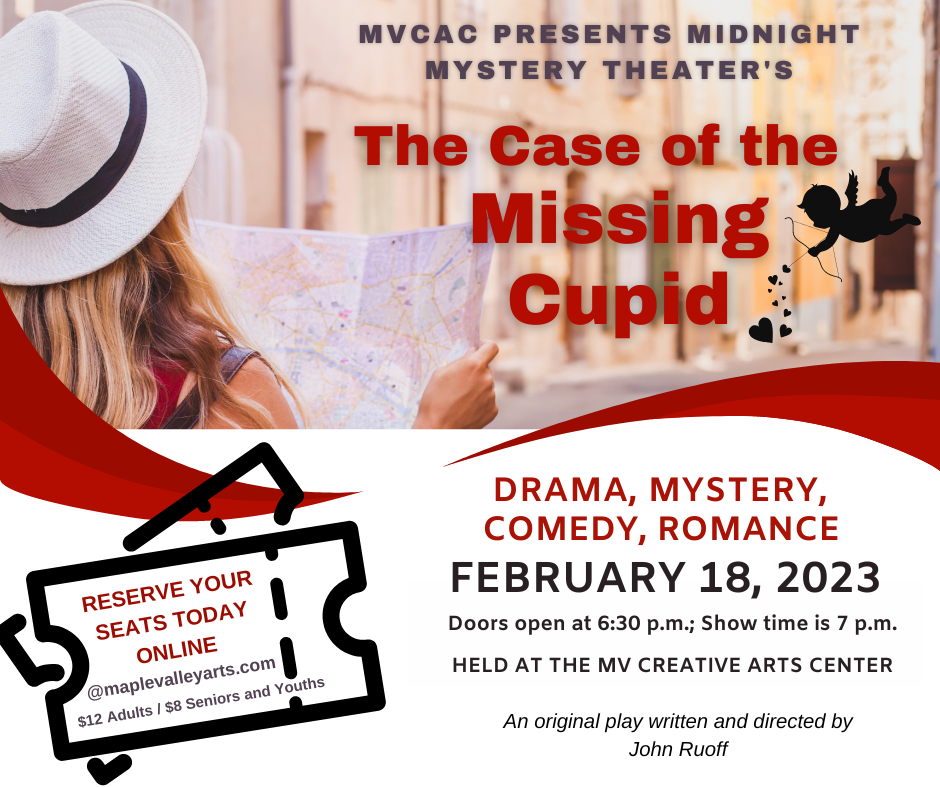 February 18, 2023
@
7:00 pm
–
8:30 pm
Gail Wamba stars as Lois Lockwood-Ace Reporter! When Lois is stuck writing a lame love advice column using the AKA "Cupid"-a mysterious invitation to Heart Island on Valentine's Day from a mysterious person called "Cupid" has our ace reporter up to her neck in mystery and mayhem.
Join Lois and her uncle Manny (Dean T. Moody)-man about town-on the bus- known as "The Silhouette" on this wacky, hearty adventure.
Tickets prices are Adults $12 and Seniors/Students $8
Written and directed by John Ruoff. Starring Gail Wamba as Lois Lockwood, with supporting actors Ryan Asbert, Jane Martin, Rob Bowker, Lindsey Dabek, Chris Mathews, Dean T. Moody and John Ruoff.
Sound effects by Bruce Johnson and Josh Kibbey
Music by Dean T. Moody
Also featuring the music of The Cheese Adjusters
$12
Adult, $8 Student/Senior
Maple Valley Cultural Arts Council